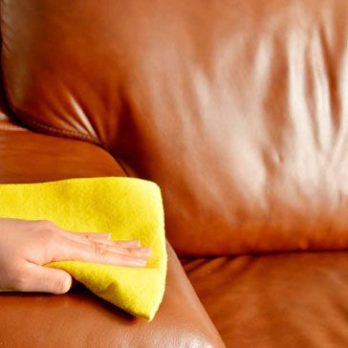 Professional Leather Cleaning in Melbourne
Leather furniture is an excellent investment and can add a touch of class to any home or business. Though leather is extremely durable, evidence of wear is highly noticeable, which is why cleaning and maintenance is so important. However, most cleaning products on the market are not appropriate for leather and may break down leather finishes, leading to dryness and cracking.
Fortunately, ChemDry Pro offers safe and effective leather cleaning in Melbourne that restores the natural vibrancy and shine of leather, adding years of life in the process. With regular cleaning by our certified leather specialist, you can prevent undue wear and keep your leather furniture looking great for years to come.
Maintain the Quality of Your Leather Furniture
Body oils, perspiration, skin acids and regular wear and tear can diminish the appearance of leather furniture over time, leaving dark spots or stains among other unsightly blemishes. Our professional leather cleaning service can restore leather furniture that has been affected by the following:
Oils and Grease– Body oils from people and animals are easily transferred and seep into parts of leather furniture that get a lot of use, causing serious damage to the furniture's protective finish.
Atmospheric Soils– Dust particles as well as airborne cooking oils and invisible air pollutants produced by common home activities eventually find their way onto leather furniture and cause problems.
Common Soils– Soils including common dirt, sand and fibres from plants are tracked into the home by adults, kids and pets, attaching to the leather every time the furniture is used.
Dyes and Inks– A leaky pen, the ink from a newspaper and the dyes from fabrics like denim are among the ways that inks and dyes can be transferred to leather furniture and can be hard to remove without damaging the surface.
Our certified leather specialists will carefully identify your furniture's leather type and select products specifically designed to clean and remove soil build ups and other stain-causing elements. We'll then condition and protect your leather as part of our professional leather cleaning service, helping to revitalise and replenish its natural beauty and feel.
Restore Leather Furniture
Throughout the lifetime of your leather furniture, it's bound to get a couple of nicks and scrapes along the way. When the time comes to ask yourself "where can I find a great leather cleaner near me?", you won't be disappointed by what the highly trained technicians at ChemDry Pro can do. We take the time to inspect your leather and apply a special pigmentation that matches perfectly with your furniture's original tan. We can also revitalise the colour of sensitive aniline leathers.
Keeping Leather Furniture Clean
We recommended professional cleanings between 2 and 4 times a year, depending on the age of the furniture and the amount of wear it gets. In between professional cleanings, you can maintain the health and beauty of your leather furniture by applying ChemDry Pro Soft Cleaner and rejuvenating the protection with ChemDry Pro Protection Cream. Both products are found in the ChemDry Pro Home Leather Care Kit from your ChemDry Pro technician.
Schedule an Appointment for Leather Cleaning Today
To restore the lustre and health of your leather furniture and protect your investment, call ChemDry Pro today to get a FREE estimate for our leather cleaning in Melbourne or schedule an appointment. We focus on homes and businesses in the south eastern suburbs within a 20kms radius of our location. This includes real estate agents, office buildings, theatres, hotels and motels, restaurants, bars, and more.