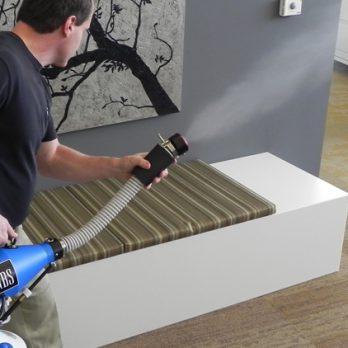 Odour Removal in Melbourne
Have you noticed an unpleasant odour permeating your home or workplace? Are you struggling to determine where it's coming from or how to get rid of it? At ChemDry Pro, we're fully capable of identifying and removing the source of an odour. Our odour removal in Melbourne can make your indoor air cleaner, healthier and more pleasant. Whether an odour is coming from mildew in the vents, pet urine stains in the carpets or moisture in the walls, we've got you covered.
What Does Our Odour Removal Treatments Involve?
There are many different reasons for carpets or hard surfaces absorbing odours. Our skilled pet odour & stain removers use state-of-the-art equipment to locate the source, after which we can treat the odour at a molecular level with products that contain odour counteracting properties. We can remove all types of pungent odours with the methodology we've applied for years, including:
Urine – Urine for pets can be very difficult to remove, requiring IICRC qualified technicians who know what they're doing. Fortunately, we have what it takes to successfully remove urine stains and odours from carpets and other materials.
Food – Various materials and surfaces can absorb smells from cooking which are next to impossible to extricate using common cleaning techniques. Our staff are fully capable of removing food and drink odours for your benefit and convenience.
Smoke – Smoke from fires or cigarettes can spread residue and soot that penetrates carpets and furnishings, leaving behind an odour to indicate their presence. This can cause discomfort and adverse health effects, which can be avoided with prompt odour removal.
Bacterial – Moisture from water leaks or floods can create the perfect environment for mould and mildew. This not only creates terrible odours, but also exposes you to nasty bacteria which should be expunged sooner rather than later.
Our carpet cleaning odour removal services are available for home owners, property managers, landlords and real estate agents. You can rely on us to get the job done promptly and reliably without charging through the roof or disrupting your routine.
Contact Our Pet Odour & Stain Removers Today
When you need professional odour removal for your home or business, you can rely on the team at ChemDry Pro to get the job done. Whether you call us on 0402 245 399, send an email to sales@cdrypro.com.au or fill out our online enquiry form, we'll do our best to advise and assist you.