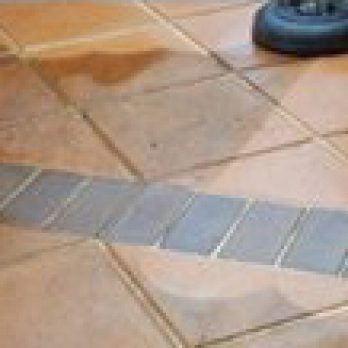 Tile and Grout Cleaning in Melbourne
Do you need tile and grout cleaning in Melbourne for kitchens, bathrooms, floors and more? Rather than spend hours on your hands and knees trying to get the muck out of the stone and tile surfaces in your home or business, save the back-breaking work for the professional tile and grout cleaning specialists at ChemDry Pro.
Porous grout, tile, and stone can act like a magnet for dirt, dust and grime particles. As undesirable particulates accumulate on your stone or tile surfaces, they can easily become a breeding ground for disease-causing bacteria. Using specialised cleaning solutions and powerful suction equipment, we can blast away the grime and deliver sparkling clean results along with an extended lifespan.
Clean, Protect and Seal Surfaces
Our trained and experienced tile grout cleaner can help safeguard the health of your family and the beauty of your home or business. Keeping tile and grout clean can be hard work, but it doesn't have to be when you call the best cleaning company in the south eastern suburbs to tackle the job.
Getting bathrooms, kitchens, walls or any other tile and grout surface professionally cleaned every 12 to 18 months will ensure a long-lasting shine and greatly reduce the amount of effort and money it takes to keep these areas looking great.
Once our cleaning experts get your tile and grout surfaces looking pristine, they will then apply a durable sealant that helps protect against dirt and other particles that can tarnish their appearance. Our dedication has made us the answer to the question "who offers the best tile cleaning near me?"
How Often Should I Organise Tile and Grout Cleaning in Melbourne?
Foot traffic, children, pets and routine floor maintenance are all factors that need to be considered when deciding if your tile, stone and/or grout need to be cleaned.
Why Should I Have My Stone, Tile and Grout Cleaned?
Floors start to suffer from dull and discoloured grout when there is dirt build up. With professional cleaning, the dirt can be removed, restoring your floors to their original shine or close to it.
Why Should I Have My Grout Lines Sealed?
Sealing grout lines prevents the porous material from absorbing soil and spills. When grout lines are sealed, they create a barrier so that you have more time to clean up spills and dirt before it soaks in. There are different types of sealant depending on the level of stain resistance you're looking for.
Does it Matter if I Have a Residential or Commercial Building?
No, it doesn't. We can handle domestic and commercial jobs of all types and sizes within a 20km radius of our location in the south eastern suburbs. Whether you need tile and grout cleaning in Melbourne for hotels, motels, offices, restaurants, bars, clubs, retail stores, GP clinics or gyms, we can help.
Make an Enquiry Today
Look no further than ChemDry Pro next time you're asking yourself "who is the best provider of tile and grout cleaning near me?". Get in touch with us today to discuss your requirements, request a quote or make a booking.