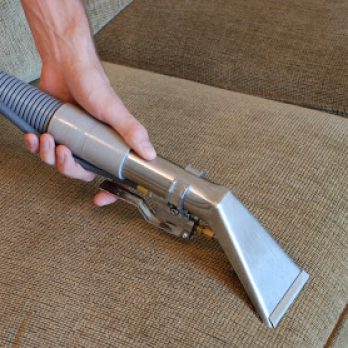 Upholstery Cleaning in Melbourne
Whether you have kids and pets, frequently host friends and family, or simply spend a lot of time at home, you know your upholstered furniture is getting a workout. And offices are no exception! With daily use of furniture, various contaminants and pollutants can settle. This includes dust, pollen, germs, food crumbs, stains and other blemishes that can't be avoided.
Rather than accept that your furniture is going to be dirty forever, let the ChemDry Pro cleaning professionals provide you with upholstery cleaning in Melbourne that extends the life of your furniture and is safe for kids and pets. Our upholstery and furniture cleaning is strong enough to clean the deepest stains, gentle enough not to damage furniture, and safe for your entire family or workplace.
Clean Upholstered Furniture The Natural® Way
Chem Dry carpet & upholstery cleaning uses 'The Natural', which is the same eco-friendly carbonated cleaning solution we use to give your carpets a comprehensive clean. Our proprietary solution is highly effective, dries faster, resists re-soiling, and is safe for all. If you're asking "who can provide the most effective upholstery cleaning services near me?", ChemDry Pro is the answer.
Envision millions of tiny bubbles working away, breaking up the dirt and grime trapped deep within the fibres of your upholstered furniture so they can be easily whisked away. That's how our safe and non-toxic carbonating cleaning solution revitalises your furniture for a fresher, healthier, longer lasting clean. This totally natural cleaning method works perfectly with all types of upholstered furniture materials. In addition, 'The Natural' doesn't contain any soaps or detergents that can leave behind a sticky dirt-attracting residue, which means your upholstery stays cleaner for longer.
Compare Our Packages
If you're asking yourself "who can provide couch cleaning near me and sofa cleaning near me at an affordable rate?", you'll be impressed by how ChemDry Pro keeps prices competitive. Find out below how our Carpet Protectant Package and Healthy Home Package (professional strength deodoriser and sanitiser) can help protect your home or workplace from everyday stains and unhealthy allergens and bacteria.
Fight Stains with Upholstery Protectant
With how much use your furniture gets, spills are inevitable. Be sure to ask your ChemDry Pro cleaning professional about applying stain protectant to your furniture to create a barrier around the fibres that resist staining. This simple act can ensure your furniture looks great all year-round year after year, extending its lifespan and eliminating the need to replace it too often.
Protect Package
Our upholstery steam cleaning services include protect packages to keep your upholstered furniture looking great for many years to come.
Restores manufacturer-applied stain guard that breaks down and fades over time
Forms protective shield around upholstered furniture fibres
Repels most liquids, allowing spills to be removed before staining can occur
Works well with a wide range of furniture materials
Sanitiser and Deodoriser to Reduce Allergens and Bacteria with Healthy Home Package
Although most people use their furniture the way it was intended for, upholstered furniture is also the perfect playground for kids and pets. Dirty hands, shoes and paws can leave behind all kinds of dirt, stains, dust, bacteria and other allergens. ChemDry Pro can apply a professional strength sanitiser and deodoriser cleaning solution to reduce the amount of unhealthy bacteria and allergens on your upholstered furniture, helping you maintain a healthier space.
Healthy Home Package: Deodoriser/Sanitiser:
Sanitises home to eliminate unhealthy bacteria that spread illness
Reduces common allergens from dust mites, pests, pet dander, pollen and more
Special deodoriser reaches odours absorbed in your furniture so they aren't just masked — they're eliminated
Works on all kinds of furniture, including beds, mattresses and other household items
Request a Quote for Upholstery Steam Cleaning Today
ChemDry Pro can service residential and commercial buildings within a 20km radius of our location in the south eastern suburbs. From homes and offices through to aged care facilities, hospitals, schools, restaurants and more, we can handle upholstery cleaning jobs of all types and sizes.
Get in touch with a ChemDry Pro representative next time you're asking yourself "who's the best provider of couch steam cleaning near me?". We can answer your questions and provide a quote for our basic, protectant or healthy home cleaning for your upholstered furniture.