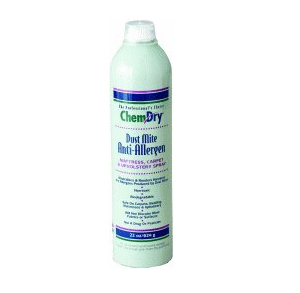 The best way to fight allergies is to eliminate their source. Our Dust Mite Anti-Allergen is a water-based anti- allergen solution containing powerful active ingredients proven effective against household dust mite allergens. Apply Dust Mite Anti-Allergen to carpets, mattresses and furniture for safe, effective results.
Benefits to Dust Mite Anti-Allergen
 Effectively controls major causes of asthma
 Not harmful to humans or animals
 Environmentally friendly
 Not a drug or pesticide
 Contains no CFCs and is fully biodegradable
 Proven in studies to be affective in rendering dust mite allergens harmless
If you are interested in purchasing, please contact Daniel on 0402 245 399
Based on results from a study conducted by an independent laboratory using ChemDry Pro's hot carbonating extraction process. Allergens tested were dog and cat dander and dust mite allergen. Airborne bacteria results includes use of sanitiser. Figures are an average across multiple homes.