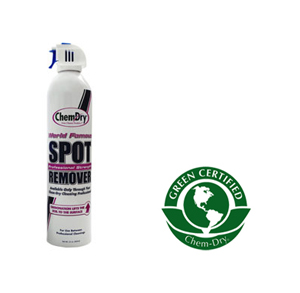 Not every stain requires a call to your local ChemDry professional. With Professional Strength Spot Remover, you'll have the power of ChemDry Pro at your fingertips. With our spot remover you can quickly and thoroughly remove the most stubborn spots from colorfast carpet, upholstery and auto interiors by using our powerful carbonating process. Professional Strength Spot Remover lifts stains to the surface, making them easier to remove. Our spot remover can also be used as a pre-wash spotter for tough laundry stains.
This products meets the high standards for Green Certification by an independent testing lab
If you are interested in purchasing, please contact Daniel on 0402 245 399
Based on results from a study conducted by an independent laboratory using ChemDry Pro's hot carbonating extraction process. Allergens tested were dog and cat dander and dust mite allergen. Airborne bacteria results includes use of sanitiser. Figures are an average across multiple homes.