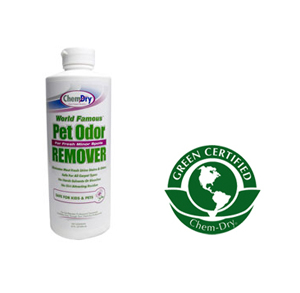 Be prepared to instantly tackle any stains or messes left behind by your pet with ChemDry Pet Odour Removal. This formula is designed to lift fresh, minor pet odours and stains from your carpet. This is the perfect tool to utilize between ChemDry Pro cleaning appointments. Large older pet stains will require a specialized treatment application from your ChemDry Pro professionalist.
This products meets the high standards for Green Certification by an independent testing lab.
If you are interested in purchasing, please contact Daniel on 0402 245 399
Based on results from a study conducted by an independent laboratory using ChemDry Pro's hot carbonating extraction process. Allergens tested were dog and cat dander and dust mite allergen. Airborne bacteria results includes use of sanitiser. Figures are an average across multiple homes.