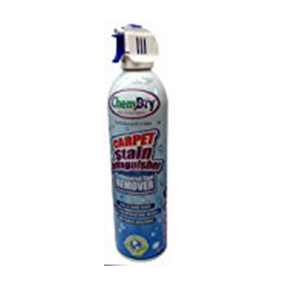 Item Description
Developed and used by the world's most trusted cleaning professionals, ChemDry Pro's Carbonating Carpet Stain Extinguisher quickly and thoroughly removes most stubborn spots from carpets, upholstery, auto interiors and even clothing. Chem Dry Pro's unique bubbling action lifts the spot to the surface unlike any other spot remover. ChemDry Pro Carbonated Stain Extinguisher is a water-based cleaner ideal for dirt and most common food spills such as ketchup, syrups, soda pop, chocolate and more. Safe, non-toxic, and doesn't use harsh solvents so no dirt-attracting residues are left behind. Perfect for use between professional cleanings. products is formulated for water-based stains only; not intended for grease and oil spots. Find other Chem Dry Pro products: Stain Extinguisher for water-based stains, Stain Extinguisher for Grease & Oil stains, Carpet Deodorizer, and Pet Urine odour Remover. Buy any 3 from Chemdry for Free Shipping. Special shipping information: Due to the nature of this item, returns cannot be accepted. See sellers page for replacement information for defective products.
products Details
Features:
 From the world's leading carpet and upholstery cleaner Chemdry
 Removes tough water-based spots from carpets, upholstery and fabrics
 Uses the cleaning power of carbonation to lift spots to the surface for more effective cleaning
 Green Certified – Safe and non-toxic for your family and pets and no harsh solvents that can damage your carpet
 No dirt-attracting residue so spots won't reappear
Based on results from a study conducted by an independent laboratory using ChemDry Pro's Hot Carbonating Extraction process. Allergens tested were dog and cat dander and dust mite allergen. Airborne bacteria results includes use of sanitiser. Figures are an average across multiple homes.